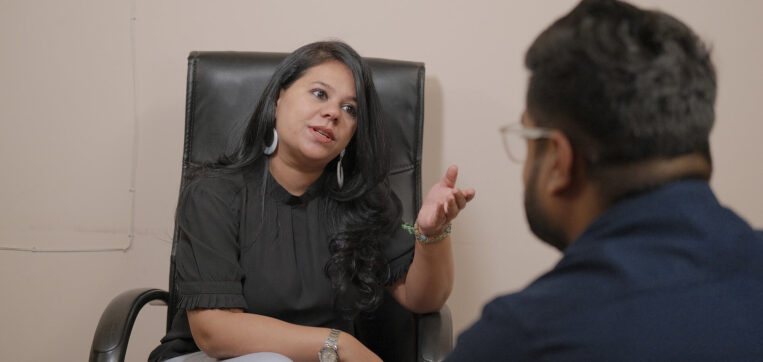 Are you preparing for your U.S. citizenship interview? The interview is an important step in the naturalization process and determines whether you will be granted citizenship. This is a guide to help increase your chance of a successful interview.
NOTES: While potentially useful for those in other jurisdictions, this guide and the experiences referred to here are specific to the Houston Field Office.
When navigating any immigration case, we recommend that you consult with an experienced immigration attorney.
Receiving a U.S. Citizenship Interview Notice
The first step in applying for naturalization is filing an N-400, Application for Naturalization. An applicant does not receive an interview notice until this application is filed. As of February 2023, we are seeing interview dates scheduled approximately two months after application submission. Wait times depend on the local U.S. Citizenship and Immigration Services (USCIS) office.
When an applicant receives their notice, they should look carefully at the address, date, and time, which are listed on the top right side of the notice. Please read this portion carefully, as missing your interview can have negative consequences on your naturalization application. The notice states the documents you should bring to the interview.
Preparing for the U.S. Citizenship Interview
Regardless of the materials you have included in the application you submitted, the N-400 instructions list the documents you should bring to the interview.
For most applicants, required documents include a Permanent Resident Card, state-issued identification (such as a Texas Driver License), passports and travel documents, evidence of current legal marital status, evidence of termination of their spouse's prior marriages, evidence of name change(s), any evidence of Selective Service registration, and their interview notice. Depending on the applicant's case and background, additional documents may be necessary. We highly recommend reviewing the N-400 instructions carefully prior to your interview.
Remember, you will also need to prepare for the English and Civics tests. These are discussed in depth below.
Logistics: Getting to the Interview
I advise my clients to arrive at least thirty minutes prior to the interview to allow for time to pass security and complete biometrics. Make sure to have your interview notice handy when you arrive, as a security guard will confirm that you have it before allowing you in the building.
Once you enter the building, you will pass through airport-style security. Please be prepared to remove any watches, belts, electronics, large coats, etc. Once you are done, you will notice a check-in desk directly in front of you as you step past the security station. Provide your interview notice to the agent, and they will provide you with two numbers. The first number is for your biometrics check-in. Typically, you will be called for the biometrics check-in immediately. Pay attention to the TV screen, which lists the applicant's number and the booth the applicant should proceed to. When you arrive at the assigned booth, the agent will take your photo and collect your fingerprints. The entire process should take only a few minutes.
The second number will be used to notify you when it is time for your interview. Please note that this number will be called using the overhead audio system or by the officer herself. This number is not displayed on a TV screen. Once your interview number is called, you will walk to the main door near the restrooms. (While you are waiting for your number to be called, you will notice other applicants walking to this door.) The officer will open the door, allow you in, and walk you to their office.
The U.S. Citizenship Interview
NOTE: The tone of your interview will be shaped by the specific officer you are assigned. USCIS officers have different personalities and styles of conducting their interviews. Understanding this, you should be prepared and anticipate that your interview could be different than how you initially imagined.
After swearing you in, the officer will typically request your green card and driver's license. After confirming basic information such as name, birthdate, and address, many officers then proceed to the English and Civics tests. The English test consists of two brief parts: (1) reading and (2) writing. The reading portion tests whether the applicant can read a single sentence on the tablet in front of them. The writing portion tests whether the applicant can write a sentence spoken to them by the officer. The officer uses different sentences for each part. For example, the officer may ask you to read, "Who was the first president of the United States?" The officer may then ask you to write, "George Washington was the first president of the United States."
The applicant must read one of three sentences correctly and must write one of three sentences correctly to pass the reading and writing portions of the English test. To prepare for this portion, you can review a writing vocabulary chart, writing vocabulary flash cards, a reading vocabulary chart, and reading vocabulary flash cards provided by USCIS. Note that you will use a tablet throughout the interview to complete the tests, confirm information, and provide signatures at different points.
The Civics test requires extensive preparation. As of February 2023, USCIS is currently using the 2008 Civics test. The agency publishes a list of questions that can be used by the applicant to study. The applicant needs to answer six out of 10 questions correctly pass the test.
If you pass the English and Civics tests, the officer will usually confirm this. Once you pass the test, it's now time to go over your N-400 application with the officer. Officers commonly ask about employment, education, marriage history, children, and/or any trips taken outside the United States in the last 5 years.
The officer will then go over the long list of questions in the N-400 that you likely already answered "No" to. These questions include:
"Have you ever claimed to be a U.S. citizen (in writing or any other way)?"
"Have you ever been convicted of a crime or offense?"
"Have you ever been placed in removal, exclusion, rescission, or deportation proceedings?"
Officers usually asks the final six questions in the application, which include:
"Do you support the Constitution and form of Government of the United States?"
Do you understand the full Oath of Allegiance to the United States?
Are you willing to take the full Oath of Allegiance to the United States?
"If the law requires it, are you willing to bear arms on behalf of the United States?"
If the law requires it, are you willing to perform noncombatant services in the U.S. armed forces?
If the law requires it, are you willing to perform work of national importance under civilian direction?
U.S. Citizenship: Approval, Denial, or Continuance
At the conclusion of the interview, the officer will have you sign, via tablet, a page that confirms your understanding of the oath.
If all has gone well, the officer will tell you they will recommend approval of your naturalization application. Recommending approval, rather than simply approving, is normal and not a reason for concern. If your application is ultimately approved, you typically receive a Notice of Naturalization Oath Ceremony within a month after your interview.
The notice will also provide details regarding the location and date/time of the ceremony, as well as a list of documents to bring to your oath ceremony.
Some applications receive continuances. This typically means that the case will be continued because additional evidence or information is needed, or the applicant failed one or more portions of the English and Civics test.
In this situation, the applicant will usually receive a Notice of Continuance within 1-2 weeks after the interview. This notice will state what information and/or evidence the officer requires. The requested evidence could be copies of an applicant's criminal records (showing that a certain charge was dismissed, for example), evidence of a bona fide legitimate marriage, and/or copies of your tax returns. The applicant will usually have approximately one month to respond with the appropriate evidence.
If the applicant simply failed one of the English and/or Civics tests, they would normally receive a notice within two to three months with a new interview date.
If your N-400 application results in a denial, you can appeal the decision if USCIS made a mistake. You will receive a notice in the mail that explains how to appeal. Many times, it makes more sense to simply file a new N-400 application.
Other Helpful Information
If you have any changes to your application, such as reporting a change in employment or a recent trip outside the United States, the officer can submit those changes during the interview.
You can now submit the N-400 application online. An advantage is you will obtain an official USCIS receipt immediately. With respect to current processing speeds, we are not seeing online filings processed more quickly than paper filings.
Applicants with English comprehension issues should also review the N-400 application thoroughly, as many questions listed in the application can be difficult to understand.
If you have a physical or developmental disability or mental impairment that has lasted (or is expected to last) 12 months or more, you can request a medical exception to the English and/or Civics tests by filing Form N-648.
You may be exempt from taking the English test if, at the time of filing, you are:
50 to 54 years of age and have lived in the U.S. as a green card holder for periods totaling at least 20 years;
55 to 64 years of age and have lived in the U.S. as a green card holder for periods totaling at least 15 years;
65 years of age or older and have lived in the U.S. as a green card holder for periods totaling at least 20 years.
Please note that you do not have to take the English test if you qualify for an exemption, but you do have to take the civics test in a language of your choice.
If you need to modify your application, the officer can help with that. Sometimes, home addresses change or they may get a new job or travel since submitting the original application.
U.S. Citizenship Houston Immigration Attorney
The U.S. citizenship interview process can be complex and confusing. It is important to have a strong understanding of the process to maximize your chance of success. However, even with the best preparation, things can go wrong during the interview. For this reason, we highly recommend seeking the help of an experienced immigration attorney. An attorney can guide you through the process, answer any questions you may have, and help ensure that your application is complete and accurate. Don't take any chances with your U.S. citizenship application. Consult with an immigration attorney today. If you would like to schedule a consultation with a Quan Law Group attorney, please click this link below.
Blog post by: Zain Maredia, Immigration Attorney Quan Law Group
Resources
For your convenience, all resources provided above are also posted here:
*Please note that these resources are subject to change. Always check the official USCIS website for the most updated information and resources.