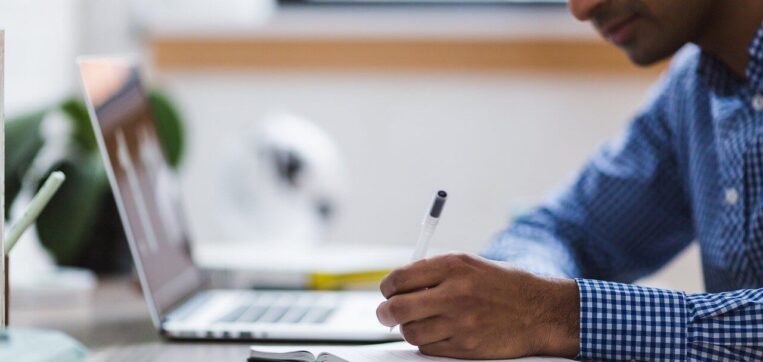 Your Immigration case has been filed, and you are wondering the status; will you hear some good news soon? Waiting for news about your case can be stressful, and you might be wondering:

Is this is the normal amount of time for a case to process?
Could my case be lost?

Or, you might be asking yourself:

Is there something wrong with my case?
How do I know how long I can expect to wait before I hear something?
How do I check the status of my immigration case?
Regardless of whether you are working with an experienced immigration lawyer or not, you can find out how your immigration case is progressing from the comfort of your own home.
---
How To Check The Status of Your Immigration Case
First, you should know that the U.S. Citizenship and Immigration Services (USCIS) publishes its processing times online for almost all applications at almost all offices. Here is what you need to know to check the status of your Immigration case:
Step 1: Find Your Immigration Case
You might be wondering, "What do I look for? Where is my immigration case right now? Which USCIS office has my case?"
You can usually figure this out by looking at the USCIS receipt notice for your case. The first three letters of the receipt notice usually indicate where the case is processing:
IOE – Potomac Service Center
EAC – Vermont Service Center
WAC – California Service Center
SRC – Texas Service Center
LIN – Nebraska Service Center
MSC – National Benefits Center
---
Step 2: Determine The Processing Time For Your Case (based on Type of Immigration Application and Location)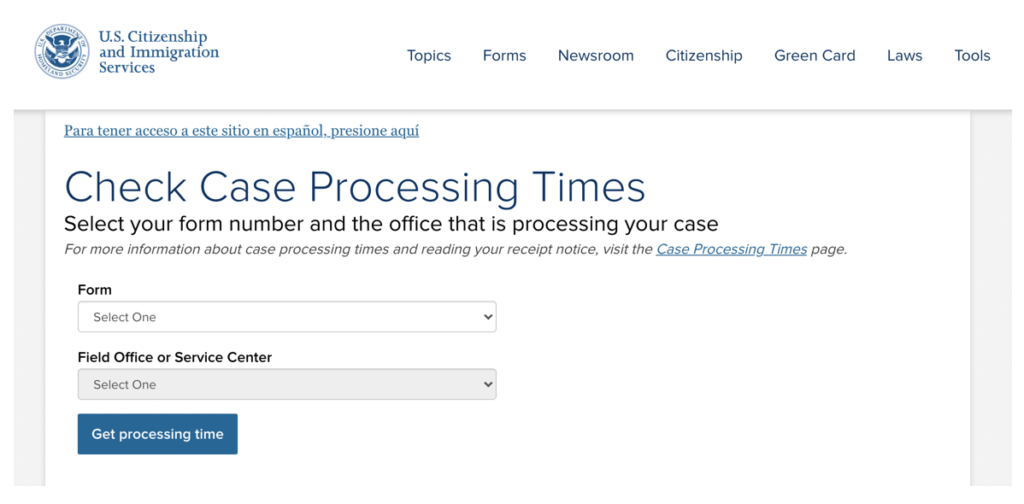 Once you know the processing location, you can go to the USCIS Processing Times Page.
Select the application form you filed.
Select the location from the dropdown menu.
Note the anticipated processing time for cases like yours.
When you get to this site, you'll see Form and a drop-down menu. Select the type of form/application you filed. Then you'll see a box that says, Field Office or Service Center. You'll choose the office where your application is processing.
Here's an example: I have filed an I-485 application to adjust status and an I-765 Application for an Employment Authorization Document (a "work permit" or "EAD") with it. I want to know how long I can expect to wait for my work permit.
The receipt notice for my work permit has a receipt number beginning with MSC, so it's processing at the National Benefits Center.

In the above example, in order to determine the wait time for my work permit to be approved, I will select I-765 as my Form, and National Benefits Center for the Field Office/Service Center.
If you're trying this out on the site, once you've selected the form & field office or service center, click the "Get Processing Time" button.
You should see a box with "Estimated Time Range" at the top. Usually, this box contains a range of several months as the processing time for applications like yours at the location where yours is processing.
---
Understanding The Factors Effecting Your Immigration Case Status
How Long Do I Have To Wait for My Specific Immigration Case To Process?
If you are wondering, "How do I know if my case will be decided within the shortest possible time or if I have to wait for the longer amount of time to pass?"
Scroll down on the USCIS Processing Times page a little further and you'll see another box that says "Estimated Time Range", "Form Type", and "Receipt date for a case inquiry" at the top. There may be a link that says "+Read All Lines" at the top of the table. Click this to see all of the types of applications in the table.
At this step, it's important that you understand what type of application you have filed. If we go back to the example that I've filed an I-485 application to adjust status and an I-765 application for employment authorization, and I'm trying to figure out how long it will take for me to get my work permit, when I look at the processing times, the Estimated time range is 8.5-12 months.
Below that, there are different ranges in the lower box under "Estimated time range". One row shows a range of 4 months – 7.5 months, and another shows a range of 8.5 months -12 months depending on the "Form Type". Which is the right one for my application?
Since I filed my work permit application based on my I-485 application, I know that the row that says "Based on a pending I-485 adjustment application" is the right one for me. That one shows a range of 8.5 months – 12 months.
---
What Can I do if my Immigration Application is Taking Too Long?
If you think your immigration case is taking too long, you might be wondering what you can do. Before you rush to try to call USCIS or show up at the closest USCIS office, WAIT!
It's important to know the processing time for cases like yours so you know if the wait time you're experiencing is normal. If it is, you don't have to worry that you should've received a decision on your application by now – it's not time yet.
But what if you think it's been too long and you should've heard something about your application?
First, be sure you've checked the processing times for applications like yours and that you're looking at processing times in the correct location.
If you selected the correct application type and location, then look at the third column of the table that says, "Receipt Date for a Case Inquiry" – compare this to the date your application was received. Look on your receipt notice, and find your receipt date (usually on the left or right hand side of the notice). If your receipt date is more than 30 days earlier than the "Receipt date for a case inquiry" on the chart, you can contact USCIS to let them know that your case is outside normal processing times.
---
What if my Case is within Normal Processing Times – BUT I Have an Emergency and Need an Answer Now?
If you believe you have emergency circumstances and want to ask USCIS to expedite your application processing, take a look at the USCIS expedite criteria link to for some general information about requesting expedited processing.
Some things to keep in mind if you want to ask USCIS to expedite your case:
USCIS has sole discretion to expedite application processing, so you can ask, but in the end, they get to say yes or no.
There is no "magic bullet". USCIS considers requests to expedite on a case-by-case basis. There are no magic words you can use that will guarantee that your case will get expedited.
Not every case qualifies for the expedited application process. There are circumstances in which expediting a case doesn't help you, and there are even circumstances where expediting a case could have negative consequences. Be sure you know what you can expect in your case.

For Example: You are waiting on approval of your U.S. citizen brother's petition for you, filed 2 years ago. Understand that you may have several years to wait before you will be able to immigrate to the U.S., so asking for the petition to go through the expedition process doesn't really help you and ultimately wastes the officer's time.
Second Example: You are waiting on approval of your employer's petition for you. Your petition priority date is not yet current. Getting a quick approval, may affect whether your children are eligible to immigrate with you as a derivative beneficiary of you.

---
Can I Move My Case to a Different Office to Try to Make My Immigration Case Status Process Faster?
No, you cannot move your case to a different office. USCIS decides where a case will be processed.
If you look at different offices, and see vast differences in processing times for the same application type – keep in mind sometimes this is because the same form is used for several different types of applications or requests. Depending on the type/category, the processing time can differ considerably.
For example, an I-130 petition may be for a spouse or parent of a U.S. citizen or it can be for a sibling of a U.S. citizen. If you look at processing times for I-130 petitions, they range from a few months to a few years. This is because some offices are handling I-130 petitions for siblings of U.S. citizens, and some are only handling petitions for spouses and parents of U.S. citizens.
If you want your brother or sister's petition to go through faster, trying to move to a different Service Center will not help. The processing times are slow because there's no rush for these cases. Upon petition approval, it still takes several years for the person to finally get their turn in line to immigrate.
---
Why Should You Consider Getting a Consultation from an Experienced Immigration Lawyer?
Still confused or feel like you don't have all the information you need to figure out what is happening with your immigration case status? Talk to an immigration lawyer with experience and a history of past successes. If there's a problem with your case, an experienced immigration lawyer can help you resolve any issues quickly.
In the event your case has an issue you are unaware of, it is better to have an expert on your side to catch any problems early. Understanding the details of your case and the Immigration system are what set us apart from other Immigration Law firms. Contact us so we can help you through your successful immigration case.