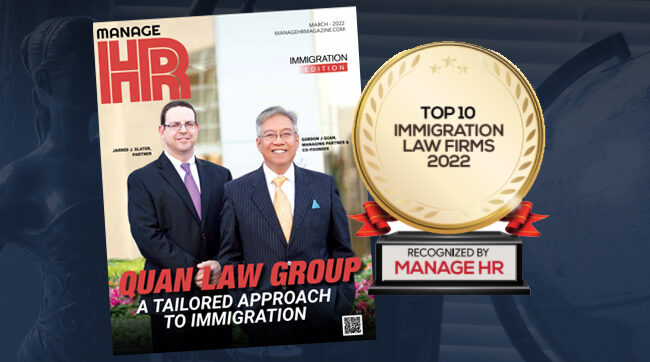 Houston Immigration Law Firm Recognized As A Top 10 Immigration Law Firm
Last month, Quan Law was proud to be featured as a Top 10 Immigration Law Firm in the U.S. on the cover of the March 2022 issue of Manage HR Magazine. Quan Law Firm differs from other Houston Immigration Law Firms in 4 key ways:
---
A Tailored Approach to Immigration Law for Our Houston Clients
Quan Law's immigration clients aren't typically large corporate clients like Google, Apple, or Microsoft. Instead, we work with smaller organizations or individuals from diverse industries including retail, construction, education, technology, supply chain/logistics, and various research spaces.
Smaller businesses and individuals often require a more customized approach to immigration.
---
We Have Walked In Our Client's Shoes
Quan Immigration Law Firm is a small but mighty force for holistic, full-service immigration solutions. Of our team of 40, more than half were previously immigrants themselves. As a result, our Quan Law team has firsthand experience with the challenges of the U.S. immigration system. They have walked in their client's shoes, and know the intricacies of the immigration process.
The Quan Law team comes from various ethnicities and cultural backgrounds. As a result, our team boasts fluency in 8 languages, and multiple specializations. Yet, beyond the strengths and competencies of our team, what truly sets Quan Law apart is our ability to empathize with our clients.
---
The Best Advertising Money Can't Buy
Quan Law Firm does not advertise. We have found that the best advertising is free, and comes via word-of-mouth from our happy clients. What matters most to us is providing genuine value to our clients by effectively and successfully solving their immigration challenges.
As a result, our past clients have become our primary referral source for new clients.
We're also always up for a challenge and willing to take on cases that other immigration law firms turn down. Quan Law prides itself on solving complex immigration problems, especially for clients who fear their case is impossible to successfully litigate.
---
Knowledge Is Power
With each changing administration, the way immigration law is interpreted and implemented changes. Our team is dedicated to keeping up with these changes. At the same time, we take the time to understand the sentiments of the current administration.
---
If you are looking for a team that will offer you a tailored, empathetic, effective, and dedicated approach to your Houston Immigration needs – get in touch with Quan Immigration Law today.