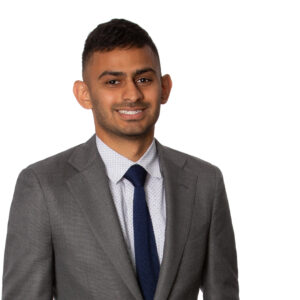 ZAIN MAREDIA | IMMIGRATION ATTORNEY
Contact:

Direct: 832-879-2020
Main: (713) 625-9200
Fax: (713) 625-9222

Email: zmaredia@quanlaw.com

Education:

Texas A&M University
(B.A. 2015, magna cum laude)
Columbia Law School
(J.D. 2019, Harlan Fiske Stone Scholar)

Licensed:

New York State Bar
State Bar of Texas

Languages:

English
Hindi
Spanish (conversational)
Urdu

Zain Maredia | Immigration Attorney Quan Law Group
Zain Maredia is an Immigration Attorney for Quan Law Group. He is a graduate of Columbia Law School. He represents clients in all aspects of U.S. immigration law, including family and employment-based matters.

The son of Indian immigrants and husband to a Pakistani immigrant, Mr. Maredia understands the powerful role immigration can play in changing lives. As a result, he approaches his work with passion, empathy, and compassion.

Prior to joining Quan Law Group, Mr. Maredia was a litigation associate at international law firm Winston & Strawn in New York, where he focused his practice on antitrust, intellectual property, and white collar matters. His favorite part of the job, however, was his pro bono practice, through which he helped individuals obtain their permanent residency.

Mr. Maredia graduated from Texas A&M University with a B.A. in Political Science in 2015. He subsequently received his J.D. from Columbia Law School in 2019, graduating with academic honors as a Harlan Fiske Stone Scholar. While in law school, Mr. Maredia served as a student attorney for Columbia's Immigrants' Rights Clinic. He vigorously defended individuals facing removal, notably helping a longtime resident of the U.S. obtain cancellation of removal. Also while in law school, Mr. Maredia traveled to Georgia and successfully argued for a detainee's release on bond, interviewed refugees in Amman, Jordan to help prepare their resettlement applications, supported unaccompanied children in obtaining Special Immigrant Juvenile Status (SIJS), and assisted an Iraqi family with its refugee resettlement application through the International Refugee Assistance Project (IRAP).

Mr. Maredia is a member of the Immigration and Nationality Law Section of the State Bar of Texas. He is admitted to practice law in New York and Texas.